By ChadDaniels In Featured
BOAT BOTTOM PAINTING by Wilmington Boat Services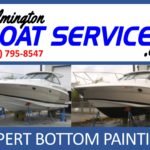 Greetings Boaters,
We can help you with just about anything regarding maintaining your boat.
If your trailer is not roadworthy and is sitting in your driveway or backyard, we can help. We will come out and make the necessary repairs to get her back on the road safely. No matter what the issue is, we have the tools, insurance and experience to get the job done.
Want your bottom painted without having to take it to the shop. We will come to your boat, lift the boat off your trailer and paint her bottom right where she is currently sitting. This is also a good opportunity to make repairs and/or adjustments to your trailer.
If your trailer is no longer functional, not roadworthy and you want to replace it with a new one, we will come to your boat, lift it off your trailer, pull the old trailer out and replace it with your new trailer. You'll be heading to the water in just a couple hours.
If you have any other situations where you need to lift your boat off your trailer, we have the jacks to get it done.
If you are not in need of mobile services, feel free to drop your boat off at our Market Street location.
We are Wilmington's premier mobile marine service.
Give us a call!
Wilmington Boat Services
WilmingtonBoatServices.com
Wilmington, North Carolina